the BEFORE (previous owner's stuff. no comment necessary):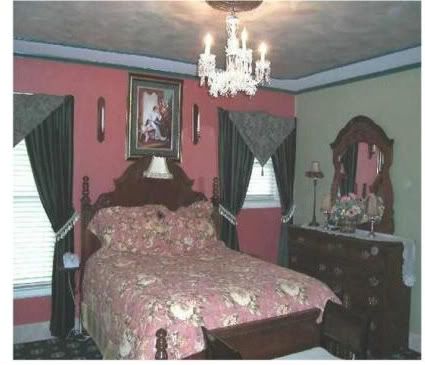 Finally, had the bed made and the room relatively put back together, so here's the AFTER:


(hard to get a good shot considering this four walled room has 3 doors (to the hallway, kids bath, and master bath/closet) and 3 windows)

This isn't winning any design awards anytime soon, I'm aware. There's a lot of patterns going on, including the carpet that would look perfect in the Oval Office. Someday we'll replace the carpet, but it's still in perfect condition - previous owner probably just laid it before we bought the house - and the frugal side of me isn't able to throw it out. There is nice dark hardwood underneath, but I'm a carpet in the bedroom kind of gal. So it stays for now.
We kept saying that our master bedroom would be the last room we'd tackle here - but I'm so glad we bumped it up the list. For very little money it's actually a room I like spending time in now. All I bought was the paint and
chandelier shades
. The bedspread I pulled from our guest bed - yes it's floral, yes it's probably outdated, but I still like it; the window treatments I made; the window hardware I bought more than three years ago, forgot about, and then found under our bed (just keeping it real, folks).
There's just a lot I like in this room. The quilt rack my grandpa made, with the quilt my grandma made. Our unity candle. Antique lace pillow shams purchased on our wedding trip. Lots of family pictures. Gifts from my parents. Mostly things that break lots of design rules when put together. But oh well. :) Anyway, if you're neglecting your master bedroom or master bath (we got lucky there, ours was already remodeled beautifully) - go spruce it up - you're worth it. ha!
*edited* I added this post to a favorite blog of mine
A Soft Place to Land
's DIY day - go check out lots of other great projects/makeovers/etc. Tons of creative ideas!!